2016 Vancouver Metro League Fall League Week 8
‍
‍
‍
Haides – Manny Deo 18, Gino #4 11
Van Rain – Connor Leduc 13, Jeff Chan and Jinagn Navas 6 each
"Strength in Numbers" was the mantra for the 2015-2016 Golden State Warrriors last season. Unfortunately after all the regular season history they made, and the 3-1 deficit they overcame in the Western Conference finals vs the Oklahoma City Thunder, they ran "back side" first into the now Reigning NBA Champion Cleveland Cavaliers. Van Rain would run into the "Warriors finals feeling" tonight vs Haides.
‍
‍
From the beginning to end, Haides were all over Van Rain like a cheap "Raincoat"! Pat hit the only 3 in the first half for Haides, along with Matt Anza doing the same for Van Rain. Haides would run their way to a 14 point lead, even with the scrambling defense of Van Rain which made the game fast but grimy.
‍
‍
The 2nd half would not get better for Van Rain, as they matched their 1st half scoring total in the 2nd half. Haides played better as the game went on, but the key to their success on this night was Manny "hit em' with the hook shot" Deo. Manny struggled in 2 of the last 3 games with his shooting %, and it visibly makes the games harder for Haides when he is not on. Haides maintains their top tier spot among the best teams in the league with a few games left until the break.
‍
‍
‍
‍
SWAT – Gene Wolff 24, William E 16
Ball So Hard – Adi #3 25, Brandon B 21
In the unexpected game of the week, these two teams were riding a wave of the win-loss emotion! SWAT was able to taste a win in an exhibition game last week vs Van Rain, while Ball So Hard came off a hard fought victory over the always tough Haides team.
‍
‍
With Ball So Hard on a roll, and it carried over into the game vs the SWAT team. BSH started out fast like they usually do, even with missing Alan "Spiderman" Hogan! Even with the push they made, the veteran SWAT team kept it close. SWAT would keep BSH from running out to a double digit lead, but they were taking a long time to find a rhythm in the first half. Gene Wolff would kick start the offense with 12 first half points, as BSH were almost face guarding him due to his "Legendary" scoring prowess. Richie Wolff would anchor the SWAT offense with timely post ups and constant pressure on drives to the hoop. Brandon and Adi would help BSH to a 4 point halftime lead, but it was a small victory for SWAT to be this close to the #1 seed in the league!
‍
‍
The second half would be more of the same, with Adi and Brandon carving up the SWAT interior defense with driving layups and put back hoops. SWAT would gradually make team defensive stops and get back into the game with tough inside baskets. Battling down to the wire, the game was tied at 65 all. SWAT was able to get a crucial stop on a missed layup by BSH. On the out of bounds play, Will E received the ball and took one dribble before seeing Gene pop free on the right baseline. Gene took one dribble and leaned back Dirk "Diggler" style over two BSH defenders. The ball was put up high on the glass and came down in the hoop just as the clock struck 0:00! One of the best finishes of the year, and not without controversy like the Toronto Raptors game tying shot by Terrance Ross vs Sacramento Kings.
‍
The season is getting down to the nitty gritty, and the games are starting to reflect that playoff intensity!
‍
‍
‍
‍
Sonic Boom – David #1 19, Shamir Naik 14
Flight – Trey #2 23, Kenny #21 14
Sonic Boom is definitely not the "Magnificent Seven", as far as roster depth on a regular basis. What they are is eternally rugged, and relentless. The experience they carry from game to game, season to season, helps them win games that they shouldn't, and keeps them in games they really shouldn't be in! Flight is usually in the same boat, except for the height disadvantage they usually carry. Yet, Flight carries the same fire that Sonic Boom does, the only thing is that they usually make up for it with three point shooting.
‍
‍
Both teams at times were shooting like they were "Skeet Shooting"….BLIND FOLDED! The bricks flew early and often, with a few nice driving plays here and there. The game turned from a "Dumpster Fire" into a back and forth, up and down game. Trey for flight tried to impersonate Kevin Love in the first quarter vs Portland Trailblazers the other night. He hit on four first half, and helped Flight to a 3 point lead over their veteran counterparts.
‍
‍
The 2nd half would turned Sonic Boom's way with an explosion by David #1. Shamir Nair kept Sonic Boom close in the 2nd half, and led the Sonic Boom defense with timely steals and assists. Ian Pierre anchored the paint with his shot blocking expertise! Sonic Boom ground their way back into the game, and took the lead late on some big time defensive steals and fast break layups. Flight could not take the lid off the basket at times, one in particular RJ Base! The stat sheet said he went 1-10 from the three point line. The eye test looked like it was 1-47! RJ did manage to score his only basket late in the game. Sonic Boom would take a much needed win into the latter part of the season.
‍
‍
‍
‍
Agaveros – Abraham C.H. 21, Miguel #40 14
SKG – Alex #11 26, Will Chaing 25
Still stinging from their week 6 debacle vs #1 seeded Ball So Hard, Sofa King Good rode into this game ready to go. 101 points in week 7 should have sent a warning sign to Agaveros, but they seemed to have started this game as they did their last game….slow. Last week, Agaveros were short a few people and struggled to pull out a come from behind victory vs Flight. This week would be way more than a struggle for them, it would become a "Blender"!
‍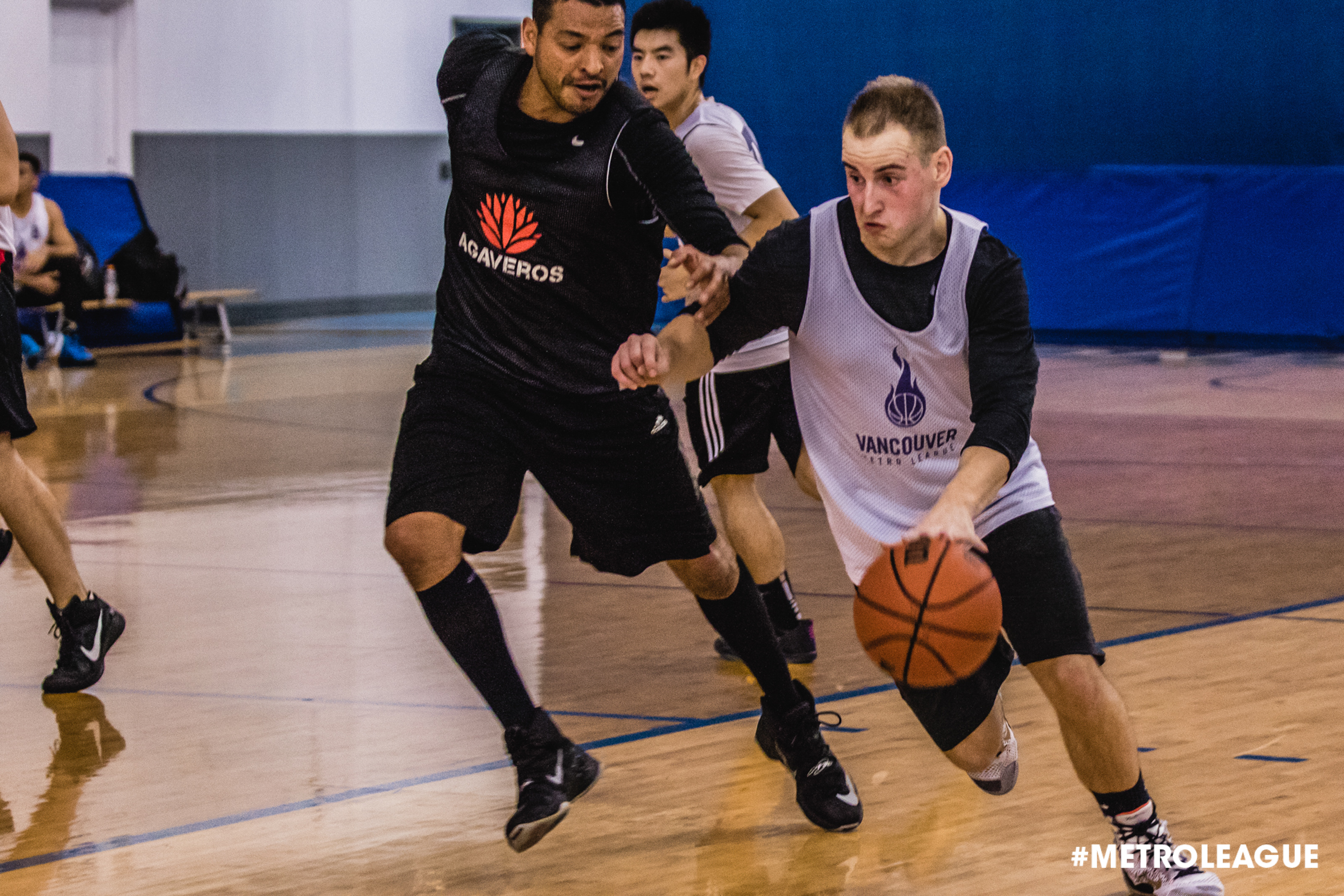 ‍
Sofa King Good gradually ramped up the pressure on Agaveros on the offense and defensive end. Kevin, Will, and Alex did their best impersonation of Steph, Durant, and Thompson, as they would combine for 42 of SKG's 50 first half points! Miguel and Abraham kept their team as close as they could, but Agaveros still would be down by 15 points at the half.
‍
‍
Agaveros would effectively find a way to slow the game down, but they could not slow down the hot three point shooting of SKG. After it was all said and done, SKG hit on 13 three point shots!!!! The scary part is that they came from several different players on the team, which makes it almost impossible to guard just one player. Compare that to the 1 three pointer made by Agaveros' Oscar, and you have a pea shooter vs a Mark Cuban T-Shirt shooting gun! The best thing about this game for Agaveros is that it only counts as one loss!
‍
‍